The Kwame Nkrumah University of Science and Technology, Kumasi announces for the information of 2021 Graduands and the General Public that it would hold its 2021 Special Congregation on Thursday, 9th to Saturday, 11th June, 2022.
GRADUANDS who completed their Programmes of Study after the last Congregation (November, 2021) should pay GHC 360.00 at any of the following banks: Ecobank, GCB Bank, UBA, Stanbic Bank, Cal Bank, Standard Chartered Bank, Republic Bank, Absa Bank, and CBG.
After payment, Graduands are to log onto the KNUST Students' Portal (apps.knust.edu.gh/students) or the KNUST AIM Mobile App and print their receipt which should be presented at the following collection points to collect Academic Robes and other Graduation items.
PhD Graduands – Queen Elizabeth II Hall
Masters Programmes – Republic and Independence Halls
The graduation fee covers Congregation Publications, Hiring of Academic Gowns, Official Photographs, Certificate Holders, University Souvenirs, Administrative Costs, etc.
Graduands are required to provide the following information at the Bank:
Name of Graduand
Programme of Study
Examination Index Number
Student ID Number
Contact Address
Telephone Number and
Email Address
GRADUANDS should be seated THIRTY (30) MINUTES before the commencement of each Programme in the Academic Dress appropriate to the Programme of Study or College and worn preferably over a suit/jacket or other suitable but decent dress.
Schedule for 2021 Special Congregation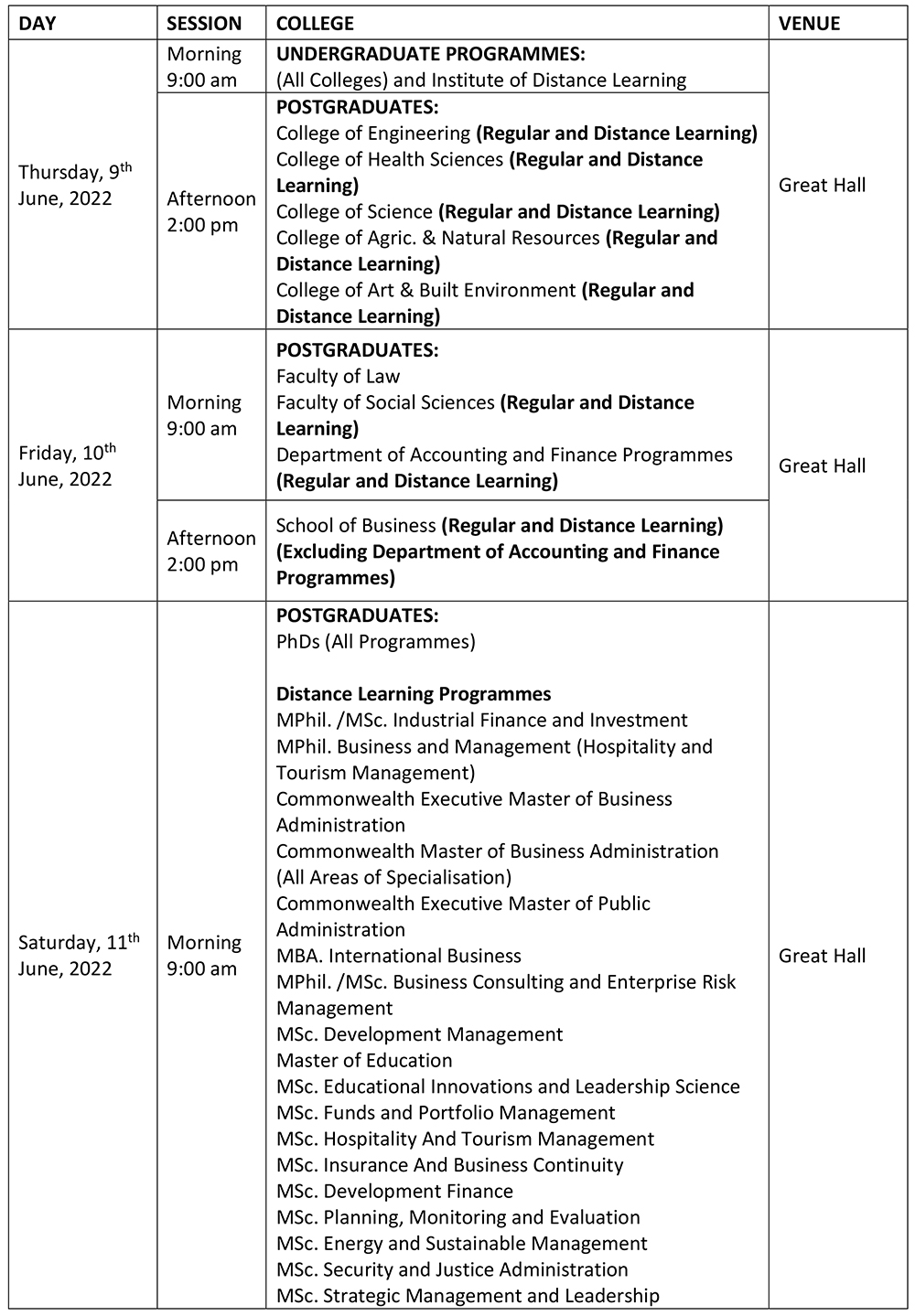 Rehearsals
Graduands attending the Congregation would rehearse as follows:
Wednesday: 8th June, 2022 at 1400 Hours: For Graduands attending on Thursday, 9th June, 2022
Thursday: 9th June, 2022 at 1700 Hours: For Graduands attending on Friday, 10th June, 2022
Friday: 10th June, 2022 at 1700 Hours: For Graduands attending on Saturday, 11th June, 2022
All Rehearsals will be at the Great Hall
Collection of Certificates
Graduates are to collect their Certificates at the following venues:
School of Graduate Studies - All Postgraduates
Casely-Hayford Building - All Undergraduates